Flash flood warning for parts of Arkansas as experts warn of threat to life
The National Weather Service issued a flash flood emergency across parts of Arkansas, with meteorologists warning a "life-threatening situation" was unfolding.
The National Weather Service's office in Shreveport, Louisiana, issued a flash flood emergency for the cities of Stamps and Buckner, as well as the "extreme north-east" parts of Lafayette county, Arkansas.
AccuWeather senior meteorologist, John Feerick, said:
There has been a complex of thunderstorms over that area much of the morning, and it hasn't been moving much, which has been the main issue.
He added that the storms had been producing two to three inches of rain per hour, and to add to the flood concern, the storms were moving slowly over the same areas.
Key events
The property insurance firm, Farmers Insurance, has said it will stop offering coverage in Florida in order to better manage its risk exposure in a state infamous for its hurricane seasons.
The move will affect about 100,000 customers in the sunshine state, which has seen several insurers drop out just ahead of peak hurricane season, according to Quartz.
This means that, if a severe storm were to roll through, it could be difficult for customers to receive payments on their insurance claims, Gizmodo writes.
The state has struggled to keep the insurance market healthy since 1992, when Hurricane Andrew flattened Homestead, wiped out some insurance carriers and left many remaining companies fearful to write or renew policies there, AP reported. Risks for carriers have also been growing as the climate crisis increases the strength of hurricanes and the intensity of rainstorms.
Wildfire season hasn't even officially started in the US, but experts say Canadian wildfires sent so much smoke into US cities that this season already qualifies as the worst smoke season in recent memory.
"This is the worst year since 2006," Marshall Burke, an associate professor of Earth system science at Stanford, told NBC News. He added that it was a remarkable measure because the "wildfire season we're used to hasn't even started yet."
As of Wednesday morning, Canada reported about 880 fires burning – more than half of which are considered "out of control," according to the Canadian interagency forest fire centre. Many of the largest fires are expected to burn all summer.
"There will be intermittent bursts of fire activity," said Robert Gray, a Canadian wildfire ecologist based in Chilliwack, British Columbia.
We can expect the US will see more smoke in the next couple of months.
A tornado watch has been issued for parts of Illinois and Indiana, according to the National Weather Service.
It says isolated supercell severe thunderstorms are expected to develop and move east to southeast with the possibility of a few tornadoes, large hail and damaging thunderstorm wind gusts.
Just steps from the city center, the only shade along cooking concrete is under the makeshift shelters that cover the sidewalks. Hundreds of people live in this sprawling encampment and fatalities during Phoenix's brutal heatwaves are high here.
"It is hell on earth," Michael Shaw says, as he rings out a soaking towel over his head and neck.
I am pretty tough but these last few days are everything I can handle.
The towels, along with coolers full of water bottles and filled jugs, are being handed out by a team of city workers, volunteers, and nursing students from Arizona State University – and they run out of the first stash quickly. The program, run by the city's landmark office of heat response and mitigation, aims to provide help to those who are most vulnerable along with outreach opportunities that can get more people off the streets and into shelters.
It's unclear at this point how many of those lined up for water will end up getting a bed inside by the end of the day, but as the temperatures push past 110F extra hydration can mean the difference between life and death.
Shaw has made several trips to the booth in the first hour after it was set up, ferrying water back and forth to those in tents farther away who can't make the walk. One woman he knows had a stroke and can't walk so he summons some nursing students and leads them to where she's waiting.
"It is a game changer," Shaw says of the extreme conditions. Life on this block is filled with danger and violence, he adds, and the lure of drugs to dull the pain is constant, only adding to the strain. "I have been robbed, mugged. But the heat," he says, "— it's the killer."
The city has been mandated to clear this area – known as "The Zone" — by a court order after nearby residents and property owners sued. But officials have asked for more time to ensure those who live here are provided with another place to go. Shaw said he didn't know much about the city's plans, but was concerned about how folks would get through the coming months out here. It's not just the stifling heat.
"Monsoon season is about to start," he said.
Those storms are violent when they come in.
Earth's oceans are changing colour and climate breakdown is probably to blame, according to research.
The deep blue sea is actually becoming steadily greener over time, according to the study, with areas in the low latitudes near the equator especially affected.
"The reason we care about this is not because we care about the colour, but because the colour is a reflection of the changes in the state of the ecosystem," said BB Cael, a scientist at the National Oceanography Centre at the University of Southampton and author of the study published in Nature.
The changes have been detected over 56% of the world's oceans – an area greater than all of the land on Earth.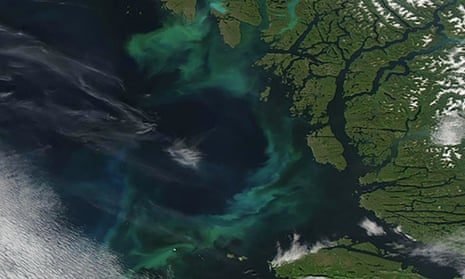 "These are not ultra, massive ecosystem-destroying changes, they may be subtle," said Cael.
But this gives us an additional piece of evidence that human activity is likely affecting large parts of the global biosphere in a way that we haven't been able to understand.
Although this discovery firmly documents another consequence of a changing climate, what is not yet clear is how strong these changes are and what is happening inside the ocean to cause them, according to Michael J Behrenfeld, a researcher of ocean productivity at Oregon State University, who was not involved in the research.
"Most likely, the measured trends are associated with multiple factors changing in parallel," said Behrenfeld. For instance, the potentially increasing abundance of microplastics in the ocean, which like any other particles increase light scattering.
"With answers to these questions, we can then begin understanding what the ecological and biogeochemical implications are," said Behrenfeld.
Nothing is testing the Federal Emergency Management Agency (Fema) like climate change, according to a Bloomberg report.
Climate-fueled crises keep mounting before the agency can close the book on recovery from the last disaster, it says.
According to a 1993 watchdog report, the agency expected one to two 'catastrophic disasters requiring life-sustaining services from the federal government' each year. But in the first half of this year alone, Fema logged 35 major disaster declarations across the country.

While climate science stresses planning in anticipation of stronger and more dangerous weather events, FEMA must function in a government that has at times been reluctant to even acknowledge climate change.
Hurricane Katrina in 2005 exposed the agency's inability to hit the ground running after disaster with robust, life-saving response and recovery, while Superstorm Sandy in 2012 demonstrated how Fema needed to deliver aid faster to victims, who continued to struggle with an onerous and bureaucratic relief process.
Temperatures in the US southwest are expected to climb higher in the coming days, and could hit 130F in Death Valley, California.
A number of locations over the region could reach record high temperatures this week, according to AccuWeather meteorologists, increasing the risk of wildfires.
Excessive heat warnings were in effect across the Desert southwest, including in cities such as Phoenix, Las Vegas and Palm Springs, California.
Fresno, California could see highs of 105F or more from Friday through the middle of next week, which could be one of the worst heatwaves in recent years.
A dozen homes were destroyed during a landslide in a gated southern California community that forced officials to declare a local state of emergency.
Residents were evacuated from their homes in Rolling Hills Estates because earth movement broke a sewer line, although those homes had not moved, local officials said in a statement.
The landslide began on Saturday atop the Palos Verdes peninsula on the south Los Angeles County coast. Firefighters discovered cracks in buildings and the on ground, and residents were hastily evacuated from homes that were deemed unsafe.
Several of those homes were then dramatically torn apart over several days as they slid down a slope into a canyon, ABC News reported. Walls and decks ripped apart and tile roofs shattered as they pancaked into a jumble, AP repoted.
The cause of the slide is not known, but authorities have noted the exceptionally heavy rain that fell on California this past winter.
WeatherNation has posted a series of striking before and after aerial pictures of devastating damage in Vermont after two days of intense flooding.
Neighborhoods and roads appear to be heavily submerged under brown flood waters.
Maricopa county in Arizona has issued a warning to hikers as the state struggles with an oppressive heatwave that has reached triple digit degrees.
"More than 200 hikers are rescued in Phoenix every year. Think twice before heading out in the triple-digit heat, and always make sure you are prepared," the county said.
Precautions it urged residents to take include staying indoors with air conditioning as much as possible, carrying around water and drinking before feeling thirsty, checking cars and never leaving children or pets unattended in vehicles.
The National Weather Service has issued an alert on distinguishing heat exhaustion and heat stroke symptoms.
In addition to dizziness and thirst, heat exhaustion symptoms include heavy sweating, nausea and weakness. Meanwhile, confusion, dizziness and being unconscious are symptoms commonly tied to heat stroke.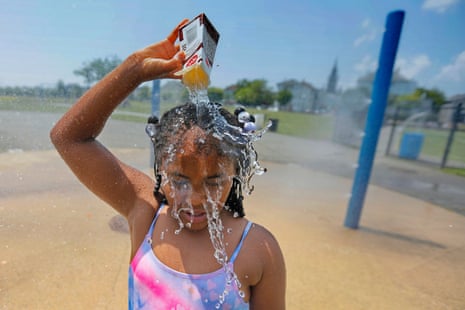 Even under thick clouds that leave Phoenix in an overcast haze, the heat continues to climb through the morning, hovering just over 100F before noon.
The forecast predicts it will get hotter still today as the afternoon wears on – but that won't stop the work, even for those who can't escape the brutal temperatures.
"I don't like the humidity," says landscaper Crispin Allejah, as he wipes sweat from his face with the long-sleeve shirt he's wearing to protect his skin from the sun. "When it is humid you sweat a lot."
Tending to a patch of flooded and browning grass that lines the parking lot of a Whole Foods where a sprinkler has gone awry, Allejah wears heavy jeans, kneepads, and boots, along with a bright yellow vest.
He likes his work, and appreciates that, unlike in other areas where winter weather limits opportunities, in Arizona even in stifling temperatures the demand doesn't slow down. "Here we work the whole year," he said. "And you need work."
He's grown more accustomed to the stretches of brutal summer heat since he moved to the region 3 decades ago – but it is getting worse.
"You have to keep yourself moving," he said. "If you stand in one place it is going to be too hot." He also has learned not to drink too much water too fast. "You have to drink water but if you drink too much, sometimes you throw up."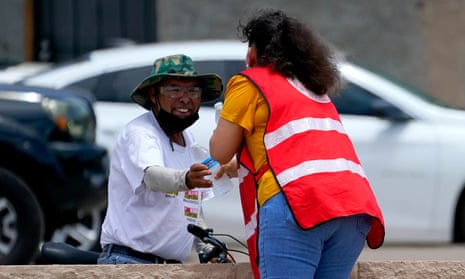 The National Weather Service of Las Vegas has issued a helpful diagram on the development of a heat wave as temperatures reach triple digits this weekend.
"Urban areas accentuate the heat, especially at night where temperatures don't cool off as compared to surrounding areas," it said.
Americans have been warned not to swim or drive in hazardous flood waters due to toxic and drowning hazards.
The Guardian's Edwin Rios reports:
In Massachusetts and Vermont, officials are surveying the damage from devastating flooding that damaged thousands of people's homes and businesses after the region was inundated by rain.
Residents of Vermont's capital, Montpelier, hopped in boats to navigate the flooding as officials cleared debris and warned that the nearby Wrightsville Dam was at capacity, heightening the risk to residents. However, by Tuesday night, that threat had ceased.
In western Massachusetts, flood warnings remained in effect for residents living near the Connecticut River as boat ramps and docks were damaged. It reminded some residents of the moment in 2011 when Hurricane Irene swept through New England, washing the region with an average of 10in of rain.
Hampden county sheriff's senior public information officer, Robert Rizzuto, told Western Mass News that residents who might be tempted to swim should avoid navigating the water altogether due to the "incredible amount of debris" and "millions and millions of gallons of raw sewage that have been dumped into the river from antiquated sewer systems over the past week".
For the full story, click here:
Here are some pictures coming through the newswires of the disastrous flooding in Vermont: