One in four Australians skipping meals due to cost-of-living pressure, survey shows
The ACTU has released its latest cost of living survey showing up to a quarter of Australians are already skipping meals because of the cost of living.
Sally McManus told the ABC it is only going to get worse if something doesn't happen to increase wages:
When you start to run out of money because of inflation and the cost of things going up and your wage is not, you obviously got to lock at your budget and work out what you can cut out and for some people, there's nothing left to cut out other than their meals.

We know that people are spending less on all the essentials and this is, you know, obviously really bad situation for families, but also bad for the economy when people don't have that extra money to spend, they stop spending and, you know, in local businesses. We have got to address this issue and get wages moves again.
Key events
As the speaker considers the request to refer Scott Morrison to the privileges committee, it is worth reviewing the censure motion, as seen through the eyes of Murph:
Foodbank Victoria to hold 'no questions asked' drive through as CEO says current situation is worst he has seen in 15 years
We have heard a lot about the impact of the rising cost of living already this morning – it is biting harder than it has in years (although of course, with the rate of social security payments, for a lot of people it has always been a harder struggle than it needs to be).
It has reached the point, though, where Foodbank Victoria CEO, Dave McNamara, says it's the worst situation he has seen in 15 years.
Not only are some of our largest charities reporting that they've moved from feeding 1,000 people a week to 1,400 people a week, but our distribution has also gone up 21% – which is unheard of in the context of those fifteen years.
Foodbank Victoria is holding a "no questions asked" drive through this weekend in Melbourne, where people will be able to turn up and receive a free hamper of produce and pantry essentials.
One will be in Dandenong, starting at 11am on Sunday at the Chobani warehouse car park, 18-20 Quality Drive, Dandenong South VIC 3175.
Another will be in Epping, starting at 11am on Sunday at the Melbourne Market car park, 55 Produce Drive, Epping VIC 3076.
It's beginning to look a lot like Christmas (or at least that everyone is about to get out of this place until February):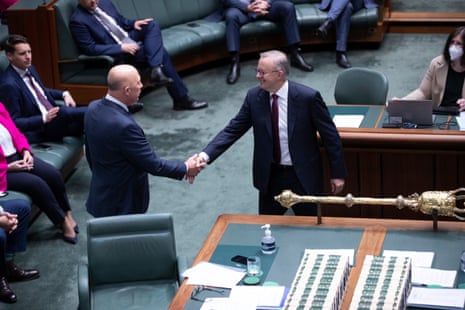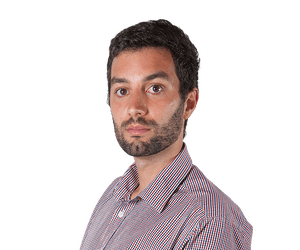 Paul Karp
The Greens leader, Adam Bandt, has moved to refer Scott Morrison to the privileges committee.
Bandt noted the conclusions of the Bell inquiry including that Morrison's actions "fundamentally undermined responsible government" – which he said the house had endorsed in Wednesday's censure.
He noted Morrison's explanation that:
"The ministry list referenced, as it does, that ministers may be sworn in to administer additional departments …"

And Morrison's own conclusion that some appointments "were unnecessary and that insufficient consideration was given to these decisions at the time, including non-disclosure".
Bandt said that the ministry lists did not alert the house that Morrison had taken additional portfolios.
He asked the speaker to consider whether these facts "constitute a deliberate misleading of the House" and to refer the matter to the privileges committee.
Tony Burke is dealing with the house hours – it is all going to depend on how the Senate is going, he says.
So if the Senate gets through its list, then the house can be done and dusted, and if it is not, then the house may still return tomorrow or Saturday.
The speaker, Milton Dick, says he will examine the referral and make a decision.
Adam Bandt asks speaker to allow motion to refer Scott Morrison to privileges committee
Adam Bandt:
The member for Cook also yesterday referenced the ministry list he tabled in parliament making the statement that the ministry list tabled in parliament referenced, as it does, that ministers may be sworn to administer additional departments.

The member also said: 'I now consider these decisions in hindsight were unnecessary and that insufficient consideration was given to these decisions at the time including non disclosure.'

Mr Speaker, the relevant ministry lists did not note that the member had been appointed to additional portfolios and so, Mr Speaker, I ask that you consider whether the report of the Bell inquiry endorsed yesterday and the statement yesterday from the member for Cook raise any matters …[which] constituted deliberate misleading of the house, and I ask you to grant precedence for a motion to be moved referring this matter to the committee of privileges and members interests.
David Littleproud gives his Christmas speech and then we move on to Adam Bandt, who is moving a matter of privilege – he wants Scott Morrison referred to the privileges committee (as Paul Karp reported a little earlier).
Dutton acknowledges work of charitable organisations over holiday period
The opposition leader finishes with:
I want to close by acknowledging those who are much less fortunate than us, who will do it tough this Christmas.

I was at a function yesterday, as the prime minister pointed out, recognising the work of the Salvos. I have had a great deal of pleasure and honour almost for 20 years to be the Red Shield Appeal chairman in my local area.

The work that they do, the lives that they save, that they influence, is just quite remarkable.

And the Salvos is, of course, one of many organisations that will be hard at work when we're … enjoying ourselves with family and friends on Christmas lunch and over the break.
Peter Dutton thanks the parliamentary staff, his own staff and the AFP protection officers:
The work that they do, and it's hard to describe to a lot of people, but the respect, again, that they have for us and for our life, our privacy.

… I've been blessed with three beautiful children and an amazingly supportive wife. They copped the death threats and all the rest of it as well. And they're stoic and they put up with it, but in part it's because of that atmosphere that the AFP are able to create both on the road and at home in protecting my family when I am not there.
Both Anthony Albanese and Peter Dutton have criticised the protesters who stand outside their electorate office, with both saying their electorate staff "put up with a lot" and that they are stopping "vulnerable" people from accessing help.
Dutton: 'There are good and bad people on both sides of politics, but the vast majority are good'
Peter Dutton:
This institution has survived many circumstances and many periods in our history where people would seek to undo our past or to disregard the traditions that we have, but they weren't standing up … fighting for the sacrifice that colleagues on both sides of the parliament have made over the course of the last 12 months, [and] the price that our families pay as well.

We were down here for 20 weeks of the year and on the road for most of the rest of the year. It's worth the sacrifice because this country deserves a very bright future.

And … as I say to kids when I go to schools in my electorate, there are good and bad people on both sides of politics.

But the vast majority are good and have only the best interests of our country at heart. And if we're embarking on that destination on occasions we take different paths to get there as parties. But ultimately we have the same good intent for our country.
Peter Dutton is now up and thanking all of the people as well.
He starts off with "we live in the greatest country on earth" and moves on to the Socceroos goal, and then moves on to thanking the defence force.
His colleagues and the Nationals get a shout out as well.
PM: 'We will ensure, as a government, that there is no hubris'
Anthony Albanese then finishes with this:
There's more to do next year and I look forward to returning here next year with a renewed sense of vigour and excitement to those people on this side of the chamber. I say this, don't take it for granted.

Don't take it for granted. We will ensure, as a government, that there is no hubris, no taking it for granted, that we work methodically.

And I say to the opposition and the crossbench as well, that I remain someone whose door is open.

I attended the actual prime minister's office in 2019 on the day that parliament began. That was the last time I was in that office until I went in as prime minister.

The leader of the opposition has been in there many, many times as have crossbench members of parliament, as has the leader of the National party.

My door is open and I see and take my responsibility to lead the country and to engage with each and every member in a serious way.

That doesn't mean I'm not a Labor prime minister. I was born Labor and will die Labor. It is who I am.

But it doesn't mean that I agree or I think that I have all the answers because none of us do and we're much better off when we're working in a collaborative way.

So we will stick to our values.

But we're certainly up for collaboration and working in a better way so that politics functions better because that is what the Australian people expect of us.

Merry Christmas.
PM thanks his team, parliamentary staff, security and defence
The prime minister then moves on to his team, singling out his deputy, Richard Marles (who is not in the chamber, and from what Anthony Albanese doesn't say, appears to be in a National Security Committee meeting)for his loyalty and his steadiness, Penny Wong for her longtime counsel and his finance team of Katy Gallagher and Jim Chalmers, as well as the "show" at large.
(Labor has always referred to itself as "the show".)
Albanese also thanked the parliamentary staff, from the clerks to the cleaners, naming Anna and Maria "who see to it that my office is a lovely place to be every morning".
"I do want to acknowledge as well some special people who I won't name for obvious reasons – my security, it is the most challenging change in my life, which is full of positives."
He said they have taken his "spontaneity" in stride, accepting that when he says "we are off to the Oils at the Pavilion" he won't be staying in his seat and will arrange to make sure he is secure, but free to rock.
The defence force and veterans get a thank you, and then his personal staff.
All of this speech is off the cuff.
The prime minister also thanked his partner, Jodie Haydon, for coming with him on "this journey".
Someone who didn't have a political life is suddenly in camera shots with Brigitte Macron, and engaging in a range of activities which a few years ago, a woman – a Coastie, as she calls herself proudly, from the Central Coast of New South Wales – would not have anticipated; but she has, I think, represented Australia at appropriate times with dignity and honour.